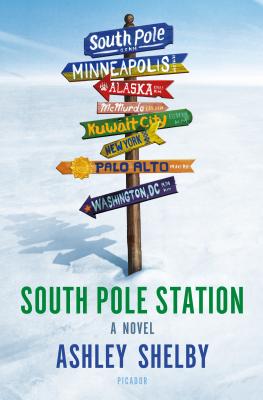 Date/Time
Date(s) - 07/21/18
11:00 am - 1:00 pm
Location
Scout & Morgan Books
Categories
Scout & Morgan Books celebrates the softcover release of Ashley Shelby's celebrated novel, South Pole Station!
DO YOU HAVE DIGESTION PROBLEMS DUE TO STRESS? DO YOU HAVE PROBLEMS WITH AUTHORITY? HOW MANY ALCOHOLIC DRINKS DO YOU CONSUME A WEEK? WOULD YOU RATHER BE A FLORIST OR A TRUCK DRIVER?
These are some of the questions that determine if you have what it takes to survive at South Pole Station, a place with an average temperature of -54 F and no sunlight for six months a year. Cooper Gosling has just answered five hundred of them. Her results indicate she is abnormal enough for Polar life.
A warmhearted comedy of errors set in the world's harshest place, Ashley Shelby's South Pole Station is a wry and witty debut novel about the courage it takes to band together when everything around you falls apart.
ASHLEY SHELBY is a former editor at Penguin and a prize-winning writer and journalist. She received her MFA from Columbia University and is the author of Red River Rising: The Anatomy of a Flood and the Survival of an American City, a narrative nonfiction account of the record-breaking flood that, in 1997, devastated Grand Forks, North Dakota. The short story that became the basis for South Pole Station is a winner of the Third Coast Fiction Prize. She lives in the Twin Cities with her family.
Softcover release date: July 3rd. Preorder your copy today!
Can't make the event? We are happy to have copies signed for you!