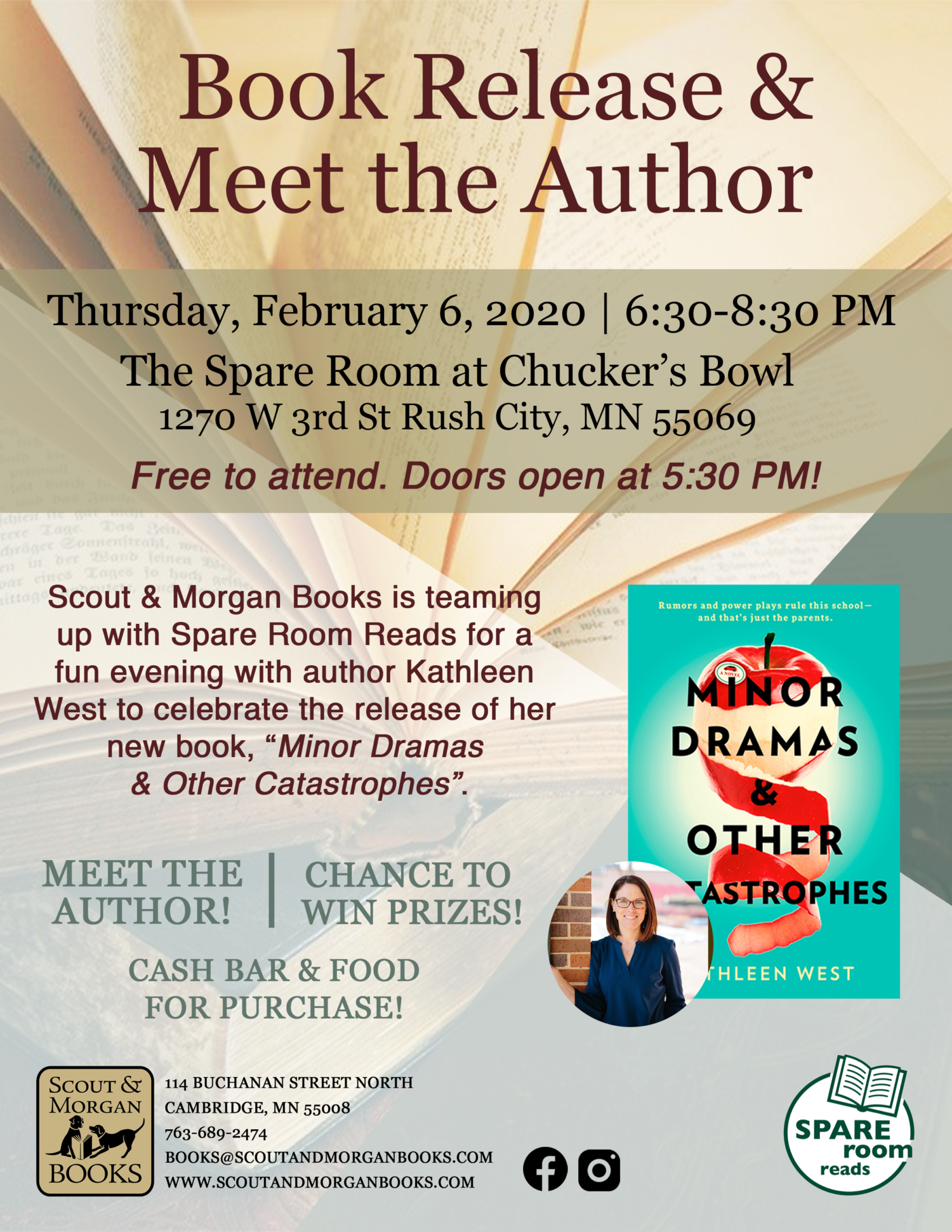 Date/Time
Date(s) - 02/06/20
6:30 pm - 8:00 pm
Location
The Spare Room at Chucker's Bowl
Categories
We are teaming up with Spare Room Reads for a fun evening with author Kathleen West to celebrate the release of her new book, Minor Dramas & Other Catastrophes. Perfect for fans of Where'd You Go, Bernadette and Small Admissions, a wry and cleverly observed debut novel about the privileged bubble that is Liston Heights High—the micro-managing parents, the overworked teachers, and the students caught in the middle—and the fallout for each of them when the bubble finally bursts. Teachers and educators will enjoy this book and great for book groups too!
We'll be drawing for prizes and have a cash bar and food available for purchase. This is a FREE event and we greatly appreciate your RSVP below or on our Facebook event page.
Doors open at 5:30 pm for food and beverage and social hour. Kathleen will begin her presentation at 6:30 pm.
Book release is February 4, 2020. Books will be available in our store and at the event.
Kathleen West is a veteran middle and high-school teacher. She graduated with a degree in English from Macalester College and holds a Master's degree in literacy education from the University of Minnesota. She lives in Minneapolis with her hilarious husband, two sporty sons, and very bad goldendoodle.
"West offers a sharp, unflinching look at her characters: teachers and administrators trying to do—and keep—their jobs; busy, high-powered parents who buy the best they can for their families; helicopter mothers who see themselves as the omniscient beings who control their children's lives; and the high school students themselves, who sometimes have to learn about kindness and mentoring, bullying and inappropriate behavior by judging their parents' and teachers' actions rather than those of their peers. An excellent, nuanced exploration of the world of high school and the students and adults who live within it."—Kirkus (starred review)
Map Unavailable
Tickets