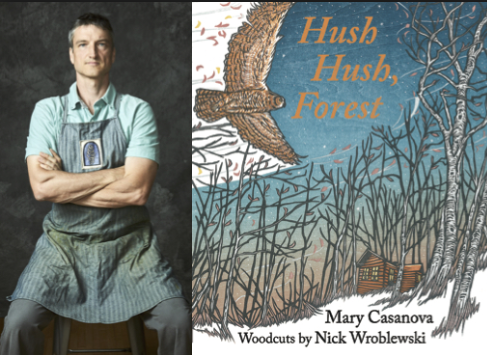 Date/Time
Date(s) - 10/13/18
11:00 am - 1:00 pm
Location
Scout & Morgan Books
Categories
It's not often that we have the opportunity to welcome the Illustrator of a children's picture book, let alone a gifted artist and woodcut printmaker such as Nick Wroblewski. We have stocked his beautiful greeting cards for many years and are delighted to have him as our guest!
This special event is for all ages. Nick will share Hush Hush Forest, his most recent magical children's book which he illustrated with author, Mary Casanova.  "While we are tucked in, snug in warm blankets as we listen to bedtime stories, the woods around us whisper another tale. As the golden leaves waft through the lengthening shadows, the loon sings one last lullaby, the whirring hummingbird takes one last sip, the industrious beaver saws one last branch for her lodge. Here, in enchanting words and woodcuts, is the magic of night falling and winter approaching in the North Woods."  – University of Minnesota Press
Hush Hush, Forest is a beautiful book for children as well as adults and will make a thoughtful gift this holiday season. Feel free to call the bookstore to reserve your signed copy if you cannot attend the event.
Nick is an artist and printmaker specializing in handmade woodcut blockprints. His art is in private collections and galleries throughout the country. He illustrated Mary Casanova's book Wake Up, Island. He lives in Duluth, with his wife and two children.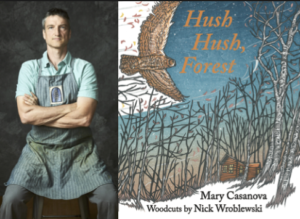 Map Unavailable