Scout & Morgan Books is located in Cambridge, Minnesota, approximately 50 miles north of Minneapolis/St Paul. We are located next to City Center Cafe, an independent coffee cafe and City Center Market, a natural foods co-op and deli. Our local farmer's market can be found in our parking lot every Saturday morning during the growing season.
The bookstore is open 7 days a week: Monday-Saturday: 9:00 a.m. -6:00 p.m. & Sunday 10:00 a.m.- 5:00 p.m. We are closed on major holidays.
We stock over 25,000 used and out-of-print books along with new Minnesota and regional books, bestsellers, and quality childrens' books. In addition, we offer unique cards and gifts that appeal to readers and bibliophiles. We can special order any book that is not currently on our shelves. New books arrive within 3 business days and used books generally within 7-10 business days. There are no shipping charges or additional fees for special orders.
We pay cash and offer trade credit for your quality books that are in Very Good or better condition. No appointment is necessary to sell your books, however, we do recommend that you call ahead to ensure the book buyer will be available. Call 763-689-2474 and ask if the book buyer is in during the time you would like to bring in your books. Please see our Sell Your Books page for more information.
We invite you to browse our books while enjoying a cup of coffee or tea from our neighbors City Center Cafe. We have a cozy fireplace, patio seating, and are dog friendly. We are a group of enthusiastic, experienced, and well-read booksellers and look forward to your visit.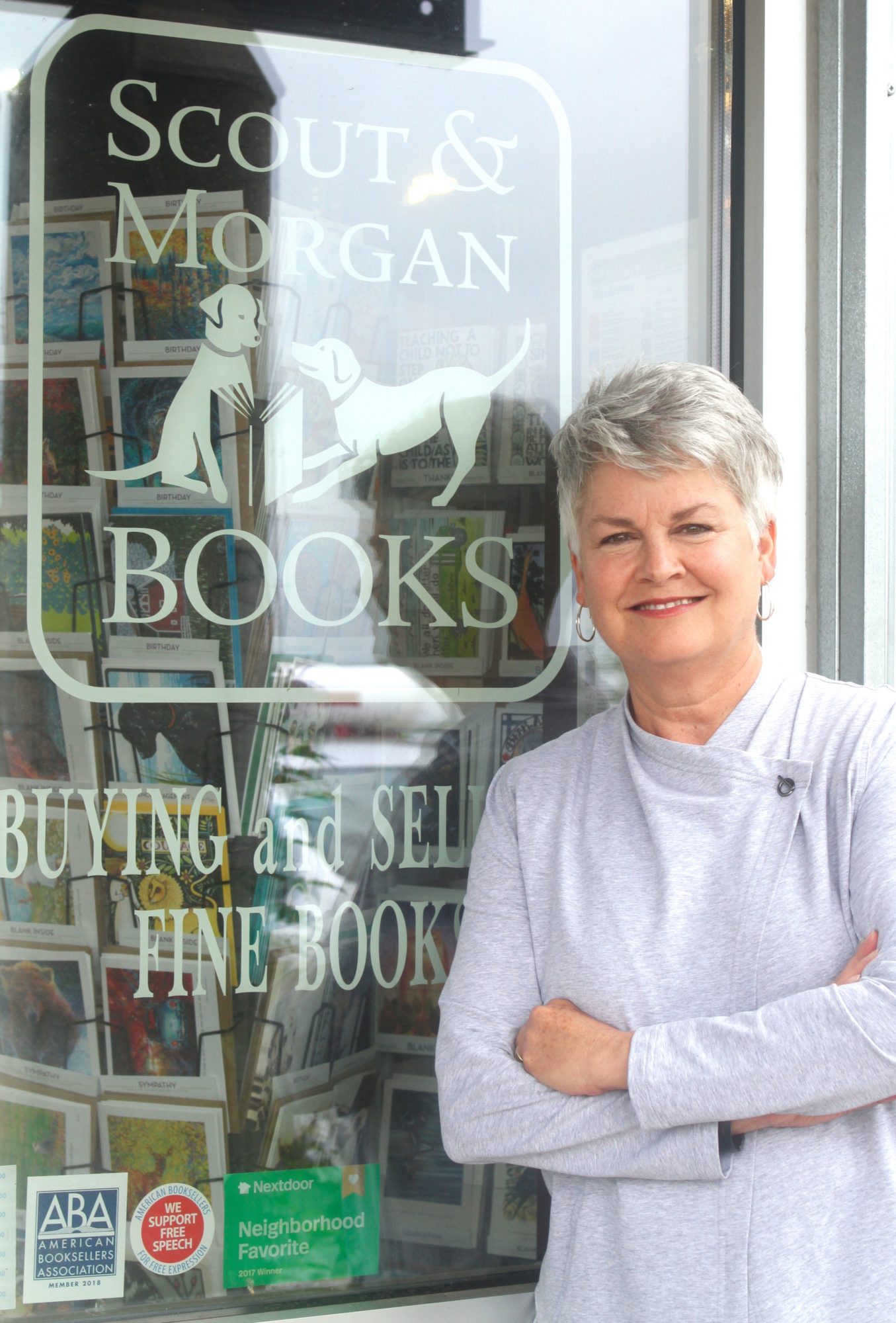 "I believe that books are the gateway to imagination. As an independent bookstore owner, I take pride in fostering the imagination of my community."
HOURS
Mon-Sat: 9:00am -6:00pm
Sunday: 10:00am-5:00pm
Closed on major holidays.
Indie Bob Spotlight
"Scout & Morgan Books has a great location with a very spacious parking lot.  The store shares building space with a coffeeshop right next door that you can get to from inside the bookstore, a great arrangement.  Next to the coffeeshop on the other side is a natural foods grocery co-op.  I think three businesses like this work well together.  The parking lot is large enough to host a weekly farmer's market which is a great way to get customers close to the store and hopefully check it out, one of the reasons I think this is such a super location.  It hasn't always been this way though.  The store originated in a log cabin 13 years ago and was there for the first 5 years as Log Cabin Books."